Arcana Iris Sacra: Illuminted Day Tarot Cloth
Please note: Tarot deck sold separately
The companion tarot cloth to the Arcana Iris Sacra can serve as a traditional way of carrying the deck, as well as a foundation you can spread on the table to lay out tarot spreads. This cloth is inspired by the celestial, including symbolism with elements, zodiac signs, dualities, and at the very center, the eternal that binds them all. This gives you the basic structure to guide the placement of cards, with or without a spread.

The cloth itself is available in a satin-weave silk or polyester.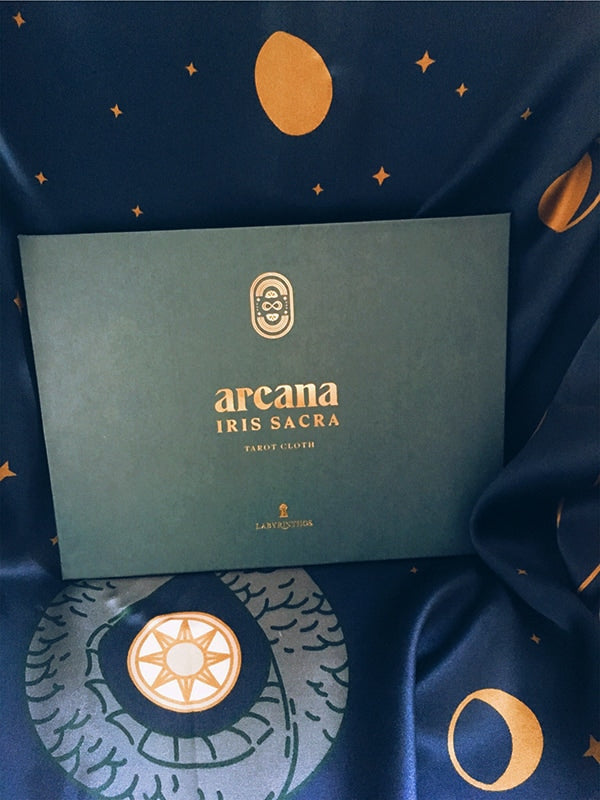 14-day returns
Free USA shipping over $100
Companion App
Secure Payment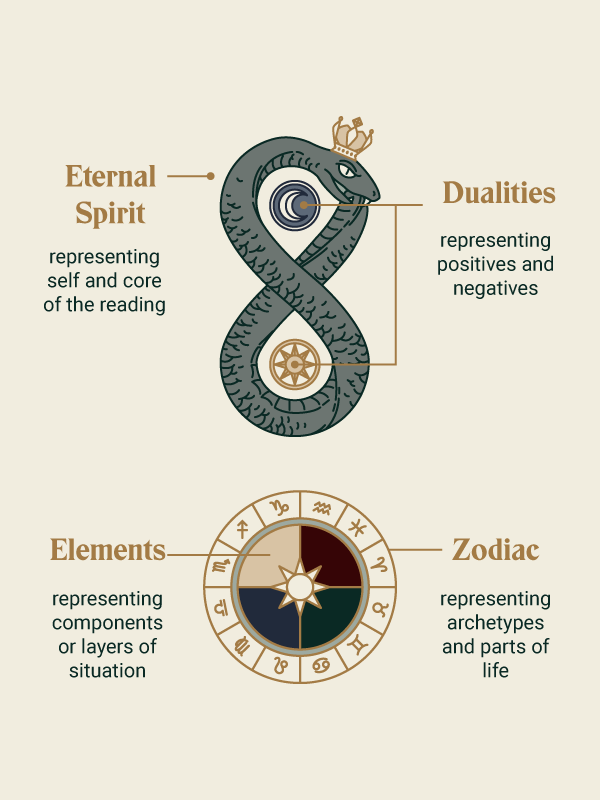 A Tarot Cloth Using the Language of Symbols
Our tarot cloths and altar cloths are decorated with symbolic elements which you can use to guide your readings. We did not include explicit frames for cards, meaning that this cloth is designed with both practicality and aesthetics in mind.

For example, at the center of the cloth, we include the coiled serpent that surrounds symbols of day and night. Lay your tarot cards on the sun and moon, to get a light and shadow reading of the situation. Build your spread outwards, using the elements, and the zodiac signs for more comprehensive answers.
And naturally, if you feel like it, you can wear it as a scarf as well!
Gorgeous and energized
The cards are noticeably smaller than I thought but it doesn't make any impacts to their beauty and energy. Also makes it easier to shuffle. I am very drawn to these cards and I can feel their connection to me! Plus the app makes it so easy for readings abs tracking!!! You can do digital or physical readings so you're never without them! It's by far the best solution that combines digital & cards I've yet to see!
I'm also curious about adding lenormand.
I also got the oroborus scarf & grimoire which I think are just gorgeous & practical all at the same time!!!
I love the silk version so much, I bought it in Rayon!
As the title states, I LOVE the silk version of my Arcana Iris Sacra Day tarot cloth, but as a professional tarot reader that travels and does fairs and markets I was afraid it would get torn or damaged so I ordered the Rayon version, and the night version (in Rayon). I am so happy I did! They are study and beautiful. The colors seem slight more vibrant on the day version on the Rayon but I'm assuming that's due to the nature of the materials. I prefer the muted colors, but the vibrancy is so slight, that it's still gorgeous.
You will never be disappointed with anything you get from Tina. I'm slowly collecting all the things. I am going to grab the silk Night version of the Tarot cloth next. Thank you for such beautiful tarot decks and accessories!!
I love everything so much!
I'm obsessed with everything made by Tina. I'm slowly collecting all the decks, books and silks. The Arcana Iris Sacra cloth is my favorite of the two I have purchased. It's so beautiful that I can definitely see myself wearing it as a scarf lol. But for now it is what I wrap my very well loved Seventh Sphere Tarot and also what I do my big readings on.
I love it! ❤️
Printing Issues on Some Cards
I received a set that had issues with printing on the box and some cards; however, the tarot cloth was perfect and the card/box issue was resolved immediately. I now have a flawless deck I was able to use and it connected very, very well. Thank you, Labyrinthos!
Arcana Iris Sacra Tarot Cloth: Day Edition
---
Related Items
Other things you may be interested in
---
Go to Top
This website uses cookies to track our traffic and marketing efforts so that we may better serve you.
Learn more