Arcana Iris Sacra: Celestial Night Tarot Cloth
Please note: Tarot deck sold separately
The companion tarot cloth to the Arcana Iris Sacra can serve as a traditional way of carrying the deck, as well as a foundation you can spread on the table to lay out tarot spreads. This cloth is inspired by the celestial, including symbolism with moon phases, zodiac signs, dualities, and at the very center, the eternal that binds them all. This gives you the basic structure to guide the placement of cards, with or without a spread.

The cloth itself is available in a satin-weave silk or polyester.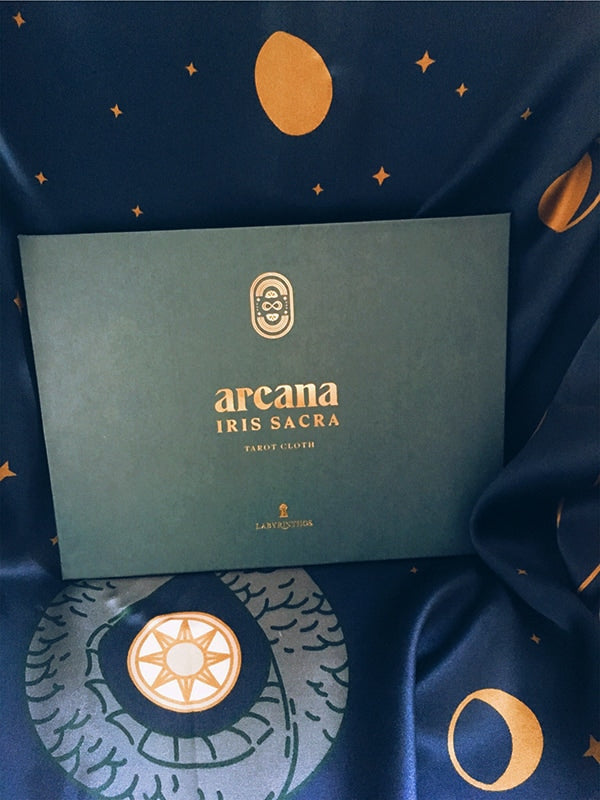 14-day returns
Free USA shipping over $100
Companion App
Secure Payment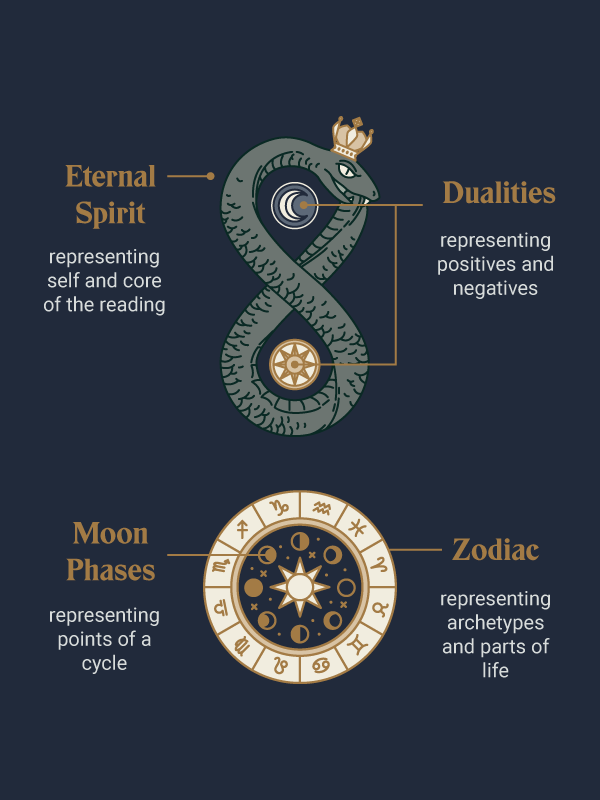 A Tarot Cloth Using the Language of Symbols
Our tarot cloths and altar cloths are decorated with symbolic elements which you can use to guide your readings. We did not include explicit frames for cards, meaning that this cloth is designed with both practicality and aesthetics in mind.

For example, at the center of the cloth, we include the coiled serpent that surrounds symbols of day and night. Lay your tarot cards on the sun and moon, to get a light and shadow reading of the situation. Build your spread outwards, using the moon phases, and the zodiac signs for more comprehensive answers.
And naturally, if you feel like it, you can wear it as a scarf as well!
BEAUTIFUL *****
The secret is you got to coordinate, most people don't coordinate!! :D Thank YOU, LOVE YOU!!!
Beautiful cloth
I chose the polyester instead of the silk because I travel with my cards, and I wanted something easy to clean. This altar cloth is stunning and goes great with my Arcana Iris Sacra deck. Definitely get one for your own rituals.
Great quality!
The cloth is beautiful in person. I was disappointed at first because I wanted the silk version and it was sold out; however, I hardly noticed a difference in quality and feel. I have purchased other cloths that are real silk, and this is high quality polyester. Would I prefer a silk one? Yes. Is this a more-than-adequate substitute, especially for our vegan witches and warlocks? Absolutely! Recommended.
Beautiful cards, exceptional quality
The quality of the materials and the beautiful artwork makes these decks stand out from every other deck I've seen. I've purchased one of each to support the amazing work that Tina has put into these. I look forward to passing these down to my children and their children.
New cards
The cards are unique and beautiful. I absolutely love them.
---
Related Items
Other things you may be interested in
---
Go to Top
This website uses cookies to track our traffic and marketing efforts so that we may better serve you.
Learn more