Using the Claves Astrologicae: Astrology Oracle Deck
Channel the cosmos with the Claves Astrologicae de Iris Sacra (translated from latin as roughly "Astrological keys of the Sacred Rainbow): Astrology Oracle to provide guidance, knowledge and inspiration for your everyday life.

This astrology oracle deck is illustrated with vintage-inspired artwork and packaging, connecting the reader to an ancient past with with a refreshed interpretation.

Use this astrology oracle to explore the heavens, understand character traits, motivations and archetypal energies of those closest to you, and examine the complex relationships between you and the universe.

You don't need to be an astrologer to read these cards. This deck can be used as an oracle deck, or a learning guide. With a foldout and an app with meanings and keywords every card, this astrology oracle deck makes the core ideas of astrology accessible to everyone.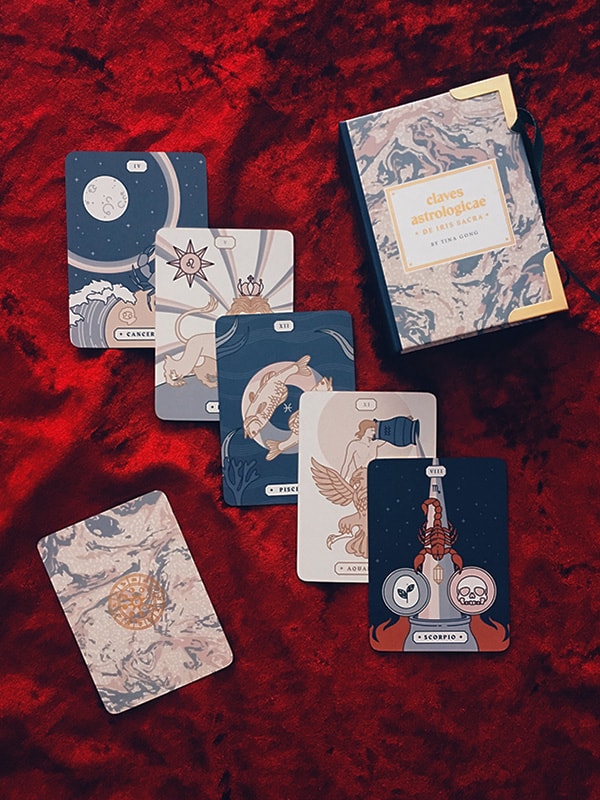 14-day returns
Free USA shipping over $100
Companion App
Secure Payment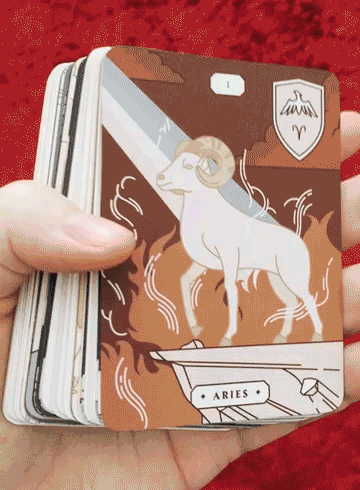 The Claves Astrologicae Astrology Oracle Deck on the Labyrinthos App
The Claves Astrologicae Astrology Oracle Deck is also compatible with the Labyrinthos Tarot app. Take your deck along with you, using digital spreads and a meanings dictionary - or use the app as a way to journal your physical readings, take notes and decipher common threads that appear in your life.

The Labyrinthos app also includes a special section that helps teach astrology, tarot and other mystical concepts with simple, easy to understand lessons.

Additional features:
☽ Digital readings
☽ Guided physical readings with deck of your choice
☽ Database of tarot card meanings
☽ Tarot journal to save important readings
☽ Tarot lessons with foundational philosophy
☽ Your Mirror: we analyze the data and give you patterns on yourself and your readings.


Love these Oracle cards
I've been using the Labyrinthos app for a long time now, and it's truly amazing how much there is for free, including ad free! I was able to try everything and decided that the Oracle Astrology cards work best for me. I deal with anxiety on a regular basis and these cards help me to think clearly through my problems. I wanted to buy a physical deck of cards to show my appreciation for such a great app. I love the art style and the cards are high quality. Thank you for making these! :)
Beautiful
This is the second deck I've bought from Labyrinthos. I use it as part of my morning routine and they are gorgeous cards.
Perfect cards, have room for improvement
Let me start by saying the quality of the cards and the artwork is 10/10. I love the interesting take on the meanings as well as the depictions of the cards that feel like a breath of fresh air from the traditional rws. Onto the downfalls - the boxes drive me crazy! They're beautiful and well made but so impractical :( the closures strictly rely on the ribbons and no matter how tightly I try to tie them, there's always a gap between the lid and the box, making me anxious to lose a card through the crack if I were to bring them out with me. I also don't want to be dealing with ribbons every time I go to use my cards. If I were to make suggestions for a future printing, I'd definitely opt for magnetic closure or something more practical than a ribbon-only closure. Additionally, while the artwork on the cards is stunning, I'm not a huge fan of the backs. It looks like a fake marble effect that's not particularly luxurious and I'd much prefer a minimalist or repeating, symmetrical pattern. All in all, I love the de iris sacra series and would still highly recommend the cards if the things I mentioned don't bother you.
Practically Perfect
This is the second Oracle Deck I've ever used. Additionally, I'm still learning divination. So excited!
Since receiving the deck, in a timely manner, I've cleansed it, welcomed it and adored it.
Typically I am someone who agonizes about meaningful decisions, however when I came across this GORGEOUS piece of artistic achievement I was struck by lighting and simultaneously all my breathe sucked from my lungs.
Using these cards have brought an amount of clarity to my readings, and a depth to my shadow work I am humbled to have.
Thank you for these beautiful elements of divination. I'm moved beyond imagination.
The only cripe I have is the box. I love the concept, and disappointed with the execution. It is adorable, so it is safe as I have a wonderful larger case that I am able to store this deck and other divination pieces in.
---
Related Items
Other things you may be interested in
---
Go to Top
This website uses cookies to track our traffic and marketing efforts so that we may better serve you.
Learn more