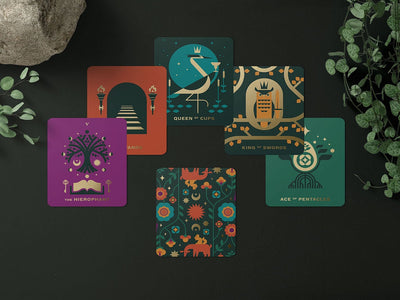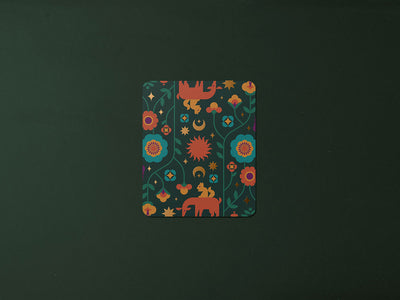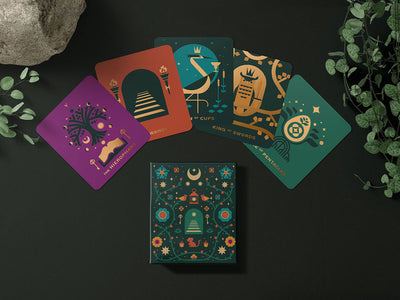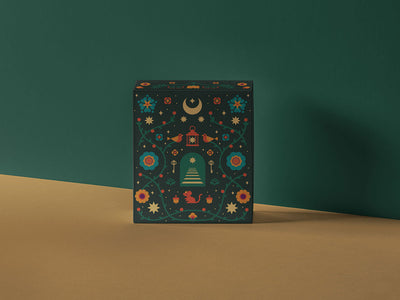 Tarot of the Velvet Moon: A Bold, Sharp Tarot Deck in a Miniature Size
Measuring 2.5 x 3 inches, this miniature tarot deck is filled with the daily dramas and hidden magic of forest friends and their occasional human visitors. The Tarot of the Velvet moon is illustrated in striking jewel-toned imagery and flooded with the subtle shimmer of metallic gold ink, creating an elegant but subdued luster. It is framed with holographic gold edges and tucked into a sturdy cardboard magnetic box.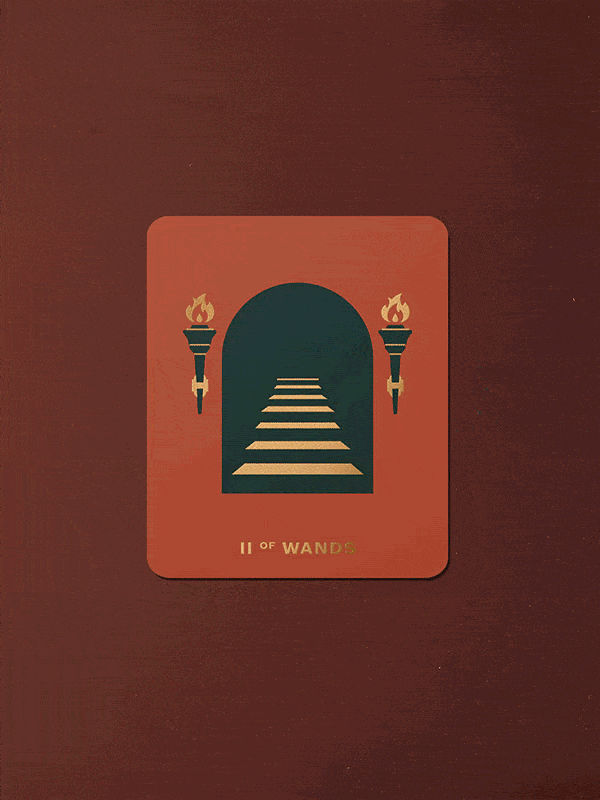 14-day returns
Free USA shipping over $100
Companion App
Secure Payment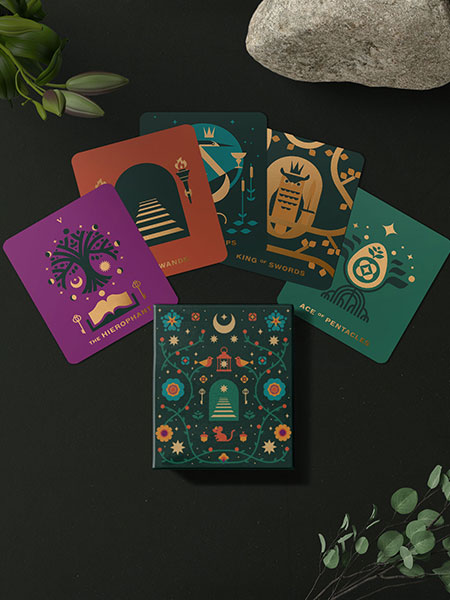 Unlock your intuition with the Tarot of the Velvet Moon
Because the design required extreme precision, I opted for metallic ink instead of foiling on each of the cards. Because foiling is hand stamped, that means we can't guarantee the exact placement of the stamps. Metallic ink does not have the mirror finish that stamping does, but is perfectly precise so we can layer ink over the exact pixels we want. It has a subtle sheen, like tiny flecks of glitter, which gives the card a more elegant look that I ended up falling in love with, especially on cards with large floods of ink.

My first tarot deck was a miniature, and was about this size. I wanted to invoke some of the nostalgia from those early memories I had with tarot by creating this deck. Every reading had a sense of wonder and mystery, I knew nothing but was filled with curiosity. Back then, tarot was something that was for me, the stuff of fairy tales - something fantastical and dream-like, but also enigmatic and cryptic. I chose dark, moody colors to heighten the sense of the unknown, alongside what I feel is quite whimsical imagery to create my first miniature tarot deck.
I love it
"I really love your decks so much that I've been learning for less than a year, and I already own 3 of them. I see myself using this one for traveling and moving around with it in my backpack. I just fell in love with the design, the aesthetics, colors, symbolism, and size. When I open it, I can't help but laugh when I see the Fool card. I really appreciate the box. Thank you for creating this and developing the apps that allow anyone to learn about tarot. Also, let me tell you that with the red velvet, I got the Seventh Sphere Marseille, and I'm in love with it too."
Most beautiful deck ever
I recently received the Velvet Moon mini Tarot deck and I am humbled by its beauty. Such remarkable attention to detail and such elegant accents. I will treasure this special deck forever. Thank you for pouring your heart and soul into your art and your products. It shows how much you care about what you do.
Cute and wonderful deck!
Exactly as pictured and described. I love the box, it's so cute. The cards are small (as advertised) but a comfortable size for shuffling. The gold edges elevate the deck. I'm a big fan of Labyrinthos deck designs and the app is soooo comprehensive and informative. It makes it easy to justify the cost of buying their products. Everything is so thought out and high quality, very much appreciated!
Great set
Will definitely recommend to my tribe.
Lovely set, sized a little off for my hands
The cards are beautiful and very well made. My only qualm is the sizing is a little off for me. They're nearly impossible for me to riffle/shuffle. They're meant to be smaller cards, I knew that when I purchased them, but because the card stock is so good/sturdy they're either a tad too small or a tad too large, I'm not sure which. Perhaps it's just my poor shuffling skills. At any rate, if the sizing was a little better I'd give them 5 stars, that's the only ding I have.
---
Related Items
Other things you may be interested in
---
Go to Top
This website uses cookies to track our traffic and marketing efforts so that we may better serve you.
Learn more