A Gentle and Serene Tarot Deck with Blue Holographic Details
Featured in DK Book's Tarot by Tina Gong. Book Sold Seperately.
A highly requested Rider Waite Smith alternative to the Seventh Sphere Tarot de Marseille. The Seventh Sphere Rider Waite Smith is a vibrant, colorful and modern tarot deck. Now with non-pip, full-bleed minor arcana illustrations in the same narrative style found in most English-speaking countries.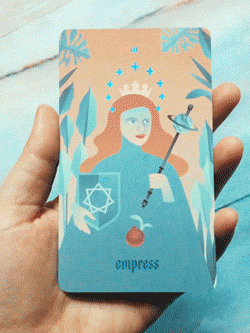 14-day returns
Free USA shipping over $100
Companion App
Secure Payment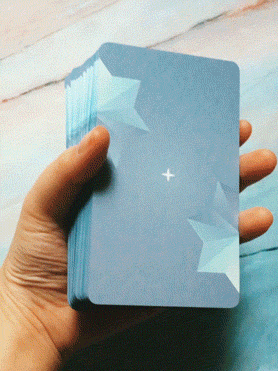 The Seventh Sphere Tarot Rider Waite Smith on the Labyrinthos Tarot App
Just like all our Labyrinthos Tarot Decks, the Seventh Sphere Tarot Deck will soon be working alongside the Labyrinthos Tarot App. It's completely free, without ads and is only supported by purchases of the tarot decks you see on this site.

The Labyrinthos tarot app focuses on the philosophy of teaching tarot as a tool for introspection, tieing together an ancient tradition with a modern approach to wholistic wellness.

The app comes with the following features:
☽ Digital tarot and lenormand readings
☽ Guided physical readings with deck of your choice
☽ Database of tarot and lenormand card meanings
☽ Tarot journal to save important readings
☽ Tarot and lenormand lessons with foundational philosophy
☽ Your Mirror: we analyze the data and give you patterns on yourself and your readings.
Seventh Sphere Rider Waite Smith Tarot Deck
I had been using the app for a while and really wanted to get this deck. I found it magical and loved the colors. I finally ordered them and was blown away by the beauty of the cards, the mesmerizing colors and the unexpected side foil. It was more magical than I imagined and have them in a little pedestal next to my my bed, but they are asking for a glass box, which I am procuring. So trilled with them!
Beautiful Cards!
The cards are so beautiful and feel so good in my hands. Thank you so much!
Seventh Sphere Rider Waite Smith Tarot Deck
Beautiful look and feel
I discovered Labyrinthos by googling for (free) tarot meanings. I shared with my daughter who is adept at readings and we discovered the (free) layouts. Then I bought your book for her birthday: Tarot: Connect with Yourself, develop your intuition, live mindfully. Then I bought another one for her birthday and kept the first one and also got the deck for her. It was so deliciously sensual to see and touch, I bought a deck for me. We love your products, your website, your generosity and your whimsy.
Gorgeous
I'm getting to know this deck along with the book! I'm very new to this but really liked the calmness evoking images!
---
Related Items
Other things you may be interested in
---
Go to Top
This website uses cookies to track our traffic and marketing efforts so that we may better serve you.
Learn more