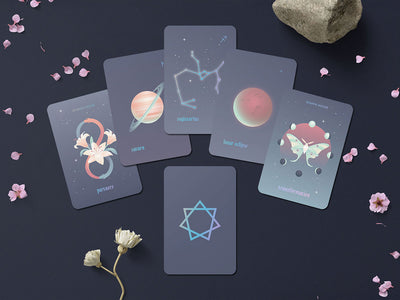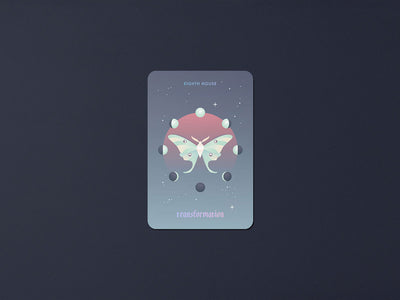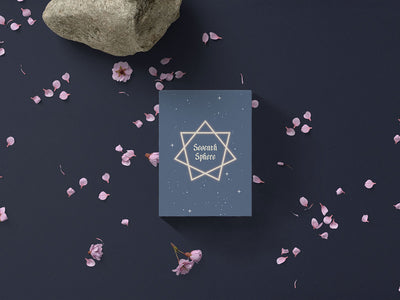 Using the Seventh Sphere Astrology Oracle Deck
Channel the wisdom of the heavens for guidance, knowledge and inspiration. Whether you're using the cards as an oracle deck or as a series of flashcards to get more familiar with astrology, the Seventh Sphere Astrology Oracle provides dreamy, pastel imagery to accompany you on your explorations.

Astrology has often been used to link celestial, mythological and archetypal knowledge to our everyday experiences. We use its langauge to understand character traits and motivations of oneself and those closest to you, creating a deeper bond between you and the universe.

Each astrology oracle deck comes with a foldout and with meanings, keywords and instructions, making the core ideas of astrology accessible to all.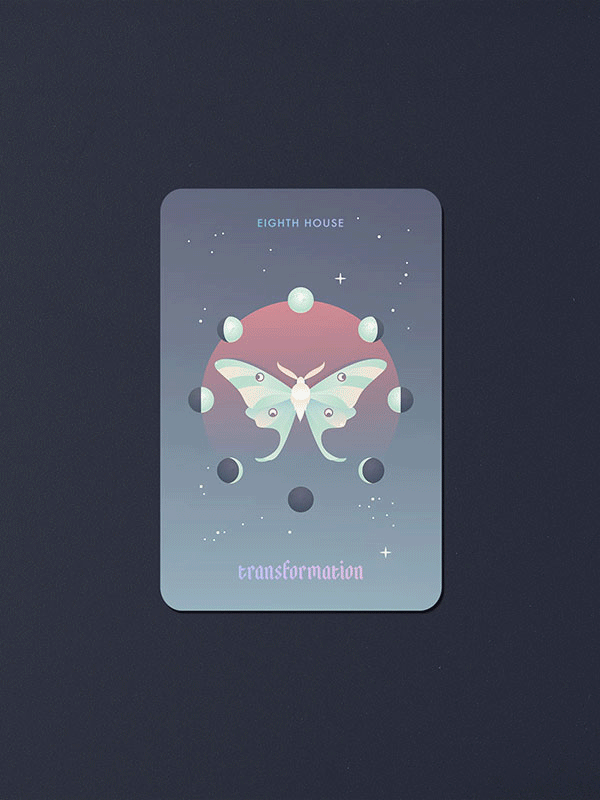 14-day returns
Free USA shipping over $100
Companion App
Secure Payment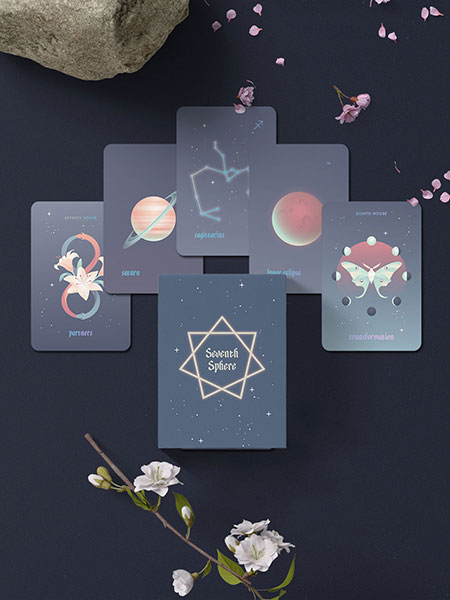 Preview the Seventh Sphere Astrology Oracle on the Labyrinthos App
The Seventh Sphere Astrology Oracle Deck is also compatible with the Labyrinthos Tarot app. Take your deck along with you, using digital spreads and a meanings dictionary - or use the app as a way to journal your physical readings, take notes and decipher common threads that appear in your life.

The Labyrinthos app also includes a special section that helps teach astrology, tarot and other mystical concepts with simple, easy to understand lessons.

Additional features:
☽ Digital readings
☽ Guided physical readings with deck of your choice
☽ Database of tarot card meanings
☽ Tarot journal to save important readings
☽ Tarot lessons with foundational philosophy
☽ Your Mirror: we analyze the data and give you patterns on yourself and your readings.


Gorgeous!!
I absolutely loves these cards! The artwork is so whimsical and I really connected with them. I bought all the seventh sphere decks and couldn't be happier ✨ The story through all of the cards really helps me retain the meanings.
o.o
¡This deck is so good!
A while back I picked up the Claves Astrologicae deck and I love it. What a great tool for learning astrology through cartomancy. It works especially well at teaching this because Tina gives a lot of illustrative and narrative clues in the imagery. Pairing it with the Arcana Iris Sacra Lenormand deck is a ton of fun for that matter too. So much so that I tend to leave those two decks together, so I was looking for another astrology deck that wasn't tied to my Lenormand deck.
This Seventh Sphere decks are a bit more subtle than the Iris Sacra but no less elegant or informative. This particular deck does a fantastic job of of making sure I know the information without the help of some of the visual clues in the Iris Sacra decks. The Zodiac cards makes sure I know what the constellations actually look like, not just their archetypical personifications or common symbolisms. And the metallic ink on the creamy dark background really allow the stars to shine on these cards. The planet cards, their stately portraits, it's like visiting them in person, like a satellite. :)
The cards sizes seemed a bit small at first but now I come to think about them as looking at things far away, like through a telescope or in the night sky. The size of the deck helps reaffirm the ethereal nature of the subjects in these cards. That would be my only critique though is maybe they feel a bit small, but so did the Lenormand cards of this series for that matter, so that's an aesthetic thing on me.
I've searched for other astrology oracle decks, and more are available now than before, but it's still a bit of a niche when it comes to accessing astrology through cards. I'd been hoping Labarynthos would come out with a new astrology deck for a while because I knew they would be great, and of course they are. With all the other learning tools and elegant products coming out of Labarynthos all the time I'm happy that this deck was able to join the crew as well.
I'm excited to using it more to strengthen my knowledge of astrology, especially as it relates to cartomancy.
I really can't recommend enough anything coming out of Labarynthos. Thank you Tina for all the information you've made accessible and bravo on all your talented work.
aP
Seventh Sphere Astrology Oracle
Delightful deck!
This is a lovely addition to my Seventh Sphere collection (I have the Lenormand and the Tarot de Marseilles). The cards work well both as astrological flashcards and as a new and interesting form of oracle deck. Plus, they're really shiny!
Gorgeous and Addicting
This deck is amazingly beautiful. The designs are so pretty I want to keep playing with them. I have a couple of decks not from Labyrinthos and the quality of this deck is superior to my other decks. The cards are really nice quality, not flimsy or papery, the holographic edge prevents the cards from fraying as you use them, and they're small so they're easier to shuffle. I'm super happy with this deck!
---
Related Items
Other things you may be interested in
---
Go to Top
This website uses cookies to track our traffic and marketing efforts so that we may better serve you.
Learn more