Learn Lenormand, Create Your Personal Lenormand Grimoire
Lenormand is a 36-card system that uses simple direct imagery alongside simple rules to help create a wide range of interpretations that are used for everyday experiences. Unlike the tarot, which is a gate into one's psychological state and inner self, the Lenormand is meant to help bring insight and awareness to your daily routine.
While tarot helps your explore your inner world, Lenormand provides context; a tarot reading may prompt you to consider what emotional struggles have been holding you back, while a Lenormand reading can illuminate how those struggles manifest in reality. Master both, and you'll have two complementary systems to help guide you along your path.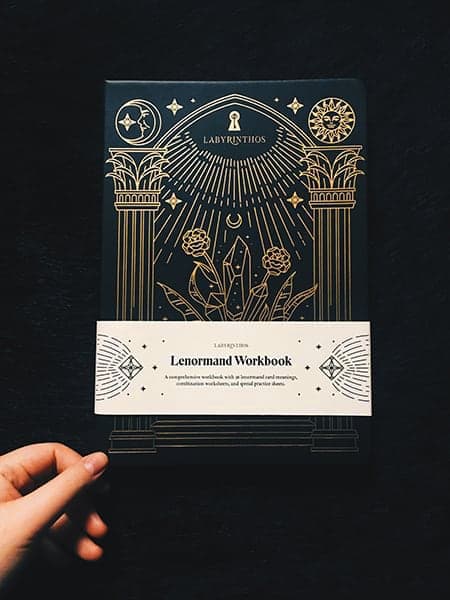 ---
Lenormand Workbook Contents
36 Card Worksheets
Explore each of the 36 cards of the Lenormand with personal prompts that help you develop a better connection with the cards. Practice breaking down each card into adjectives and nouns to create a strong base for reading Lenormand pairs.
Lenormand Pair Worksheets
Practice the foundation of Lenormand readings by creating your own database of paired meanings. Building on your work with individual cards, we show you how to read the cards syntactically.
Master Line Spreads
After mastering pairs, graduate to reading line spreads. Line spreads are perfect for giving you short answers to questions, while you can adjust the level of detail you'd like by choosing shorter or longer spreads.
Complex Lenormand Spreads
Learn how to read 2 dimensional Lenormand spreads like the box spread, and the Grand Tableau. Worksheets build upon previous exercises with line spreads, as you get more comfortable learning to read more elaborate stories with the cards.
Lenormand Journal
Give some structure to your Lenormand journey with daily, weekly and monthly readings. Each page of the journal helps you keep a record of the happenings in your life, as well as help develop a routine to practice your readings.
Reference Sheets
Includes Lenormand keywords for each of the cards, as well as playing card correspondences.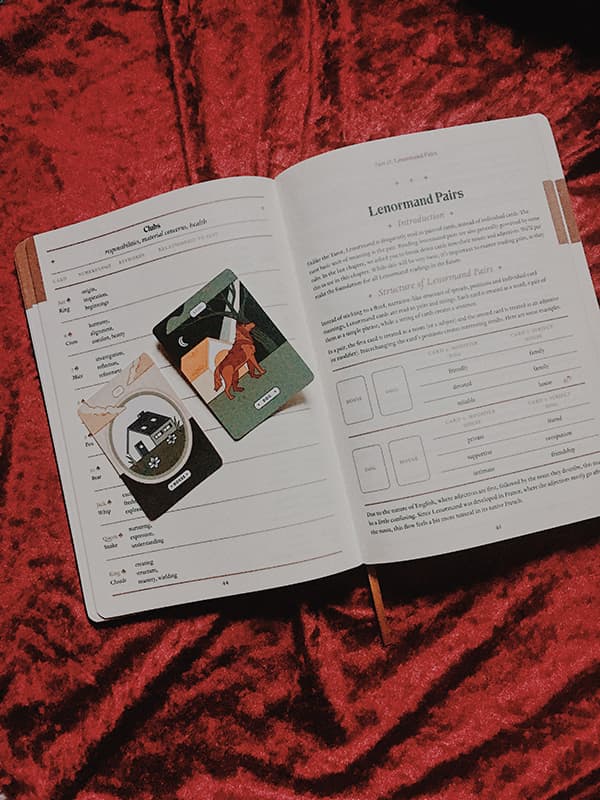 This Lenormand Workbook is for:
Beginners that have never worked with lenormand before.
Tarot readers that are looking to balance their psychological, inner-world tarot readings with additional insight to everyday life and worldly affairs.
People that struggle with reading tarot intuitively, and prefer a more structural, syntactic approach when reading cards.
Anyone that prefers reading with more obvious symbolism that does not require deep knowledge and memorization.
After Completing this Lenormand Workbook, You'll:
Have a completed grimoire of lenormand meanings, with each card having your own personal touch.
Be able to read the lenormand pairs, 3, 5, 7, 9-card and grand tableau spreads with clarity and confidence.
Understand the principles of how to read lenormand syntactically.
Have a 4-month record of your journey into lenormand, cataloging how your readings tie to your experiences.
Be able to have a strong a foundation for continuing your daily lenormand practice.
14-day returns
Free USA shipping over $100
Companion App
Secure Payment
Love
I love this workbook. Helped me so much better understand how to put everything together
Tarot journals
Very high quality! I have enjoyed filling them out!
Makes Learning Lenormand easy!
This deck (Iris Sacra Lenormand) is gorgeous! The artwork is beautiful and the cards are about the size of regular playing cards, which makes them easy to shuffle and handle.
The Lenormand workbook is also beautiful. It is set up in a way that makes it easy to work through the cards one by one, develop a connection with each card, then learn how to read them in various ways.
To anyone planning to learn to read Lenormand, I highly recommend this deck and workbook.
Comprehensive
Before exploring the Lenormand workbook and journal I had a vague idea of Lenormand. As I work through the workbook I realize just how intricate and comprehensible Lenormand is. The workbook and journal makes learning Lenormand enjoyable rather than complex and maddening. Excellent job.
Cute but small
It's a super cute deck but it was smaller than what I was expecting, it would make a cute travel deck (Lenormand deck with the misprint is what I ordered).
I'll be ordering the black and gold deck that matches with the tarot deck
---
Related Items
Other things you may be interested in
---
Go to Top
This website uses cookies to track our traffic and marketing efforts so that we may better serve you.
Learn more