---
✦ ✦ ✦
Simple and timeless, Arcana Iris Sacra's 78-card deck serves as a powerful intro to traditional divination. Accompanied by the Claves Astrologicae astrology oracle, these transformational cards present unique perspectives on universal themes of love, loss, hope, and fortune.
Encourage your personal intuitive abilities and growth with the help of two ancient traditions: astrology and tarot. This set will help guide you each step of the way, with everything you need for this journey including our Arcana Iris Sacra Tarot deck and Claves Astrologicae oracle cards, engaging workbooks for both topics, and a luxurious altar cloth worthy of their beauty. Our exquisite collection contains all that is needed to get started in one simple kit.
---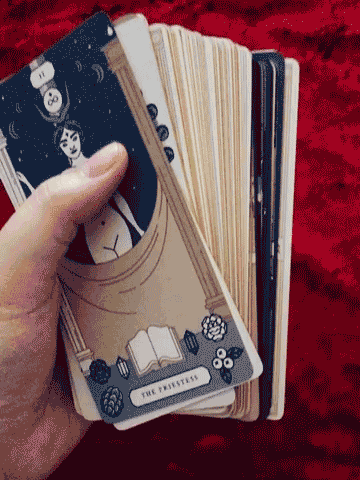 What's Inside
Arcana Iris Sacra Tarot and Astrology Set
---
14-day returns
Free USA shipping over $100
Companion App
Secure Payment
Fantastic Decks and Workbooks!
I've only started to work through the Tarot Workbook with the Arcana Iris Sacra tarot deck, but so far I've been enjoying it tremendously! It's really been a good tool for self-reflection and journalling, and I've learned a lot about myself just filling out the Major Arcana entries so far. The style of the images really speak to me too - very thought-provoking and symbolic. I've also paged through the Astrology Workbook and astrology deck -- again, the artwork of the deck is phenomenal and I'm excited to journal in that workbook next!
High quality, gorgeous, infused with artistry, magic and love
I can't say enough about Tina and Labyrinthos. I stumbled upon her website and then downloaded the app, learning from her gracious and generous wisdom. After months of gathering information, I couldn't resist her beautiful decks much longer and went all in! I purchased the Arcana Iris Sacra Tarot and Astrology Sets. They are absolutely stunning. I adore the workbooks that come with it! Tina is so organized and has such a lovely way of teaching and explaining things. I already have learned so much despite reading tarot for many, many years. Thank you, Tina!!
---
Related Items
Other things you may be interested in
---
Go to Top
This website uses cookies to track our traffic and marketing efforts so that we may better serve you.
Learn more