Learn Tarot, Create Your Personal Tarot Grimoire
Explore the tarot through the lens of your own inner world. By giving you simple keywords and prompts, we set the stage so you can expand on your own personal interpretation of the cards. Use your own life experiences to give each of the standard 78 tarot archetypes your own unique flavor while developing a more personal connection with the cards. From there, we guide you through short, daily readings with a tarot journal so you can experience just how tarot can help you find insight about your day to day world.
Create your own personal book of shadows, filled with important musings about each of the cards, as well as your own tarot spread compendium, a reflection of your own very special inner universe.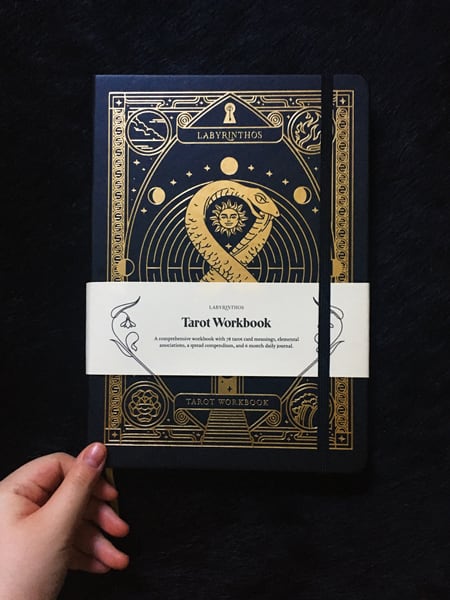 ---
Tarot Workbook Contents
78 Card Worksheets
Every tarot card has a lesson; get a brief introduction, plus tailored questions and prompts that invite you to consider how they appear your life. Develop a stronger connection to the cards, and explore your own psyche.
Upright and Reversed Cards
After you explore the core archetype of each card, we can derive their light, shadow and balanced sides, to help you understand and derive the card's reversed meanings.
Tarot Structure & Principles
Understand the theory behind each section of the tarot. You'll explore the Fool's Journey in the Major Arcana, each of the elemental affinities, and meet the court cards as though they are real people.
Tarot Journal
Brief daily readings help build confidence with the cards. We include 6 months of daily reading notes, each with their own monthly review spread, which we guide you through.
Tarot Spreads Compendium
Get several of our favorite tarot spreads, and room to record your own. There is also space to record meaningful readings with worksheets to help you break down additional layers of meaning in these readings.
Reference Sheets
Includes tarot keywords and reversals, your personal legend, and a brief minor arcana astrology correspondence sheet.
---
✦ ✦ ✦
Infuse your tarot readings with your personal, unique magic.
Supercharge your tarot readings to be even more powerful, insightful and accurate by accessing your own inner wisdom.
Our Tarot Workbook and Journal combination is a step-by-step guide that will lead you through the process of creating your very own descriptions for each Tarot card. It isn't just about being told what they mean; rather, it encourages discovery by drawing on personal experiences and readings as well intuition in order create meaningful interpretations with clarity desired.
---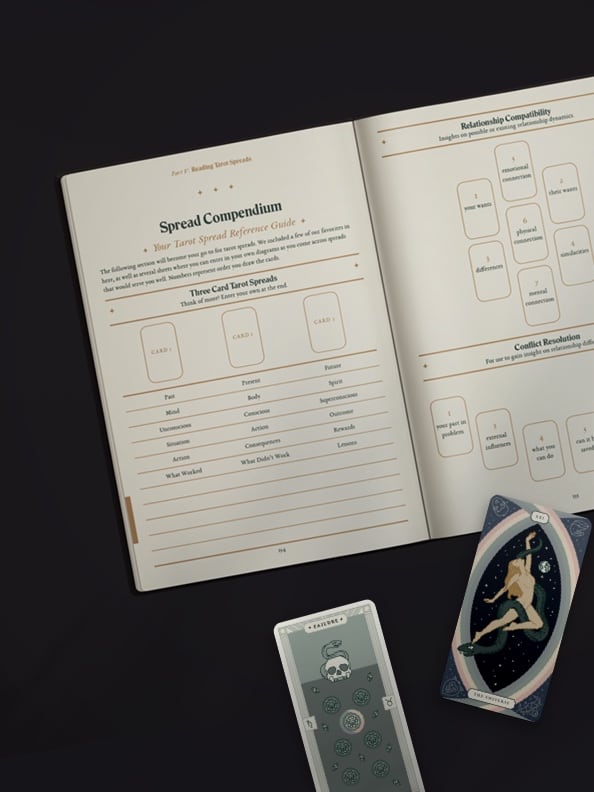 This Tarot Workbook is for:
Beginners looking to read tarot more intuitively.
Beginners looking for basic guidelines, patterns, minimal memorization and a more personal understanding of each tarot card.
Experienced tarot readers that are familiar with tarot, but also looking to refresh their personal connection with each of the cards.
Anyone interested in working with the tarot as a tool to guide self-exploration and conscious understanding of themselves.
After Completing this Tarot Workbook, You'll:
Have a completed grimoire of tarot meanings, with each card having your own personal touch.
Be able to understand some of the guiding structural principles of each tarot deck.
Have a personal compendium of your favorite tarot spreads you can reference any time.
Have a 6-month record of your tarot journey, cataloging how your readings tie to your experiences.
Be able to have a strong a foundation for continuing your daily tarot practice.
14-day returns
Free USA shipping over $100
Companion App
Secure Payment
Beautiful and Thoughtful
I was super geeked out to receive this workbook. So far, it has allowed me to have a deeper understanding and create a stronger bond with my deck! Highly recommend!!
great physical and digital goods
best tarot experience in the market
I love it!
The book is very user friendly. I haven't been able to find a journal quite like this one. Very detailed and thorough. It has everything that I was looking for and more. I was pleasantly surprised!
Great Journal
I saw the journal online and it just looked so beautiful, I had to order it. It did not disappoint when it arrived. The journal is of good quality materials. I'm a beginner tarot reader and am glad I got it. The prompts and info really help in the journey of learning tarot. I was gifted a regular set of tarot cards(not from here) and my goal is when I finish with the journal I'm definitely purchasing a deck or two from this site. They look awesome, but one step at a time. Thank you so much for such a well made product.
In complete Amazement.
I am in complete Amazement with my Golden Thread Tarot deck overall. Both the feel & weight of the cards, is perfection. And the visual artistry is beyond inspiring. Exceptional quality overall. Thank you kindly Tina.
---
Related Items
Other things you may be interested in
---
Go to Top
This website uses cookies to track our traffic and marketing efforts so that we may better serve you.
Learn more