---
Tarot & Astrology Workbook Contents
Planet and Zodiac Sign Correspondences
Journal your way through the stars, and explore the basic components of astrology using tarot cards. Journaling prompts help subtly guide you to seeing the connections between astrological archetypes and tarot archetypes.
Minor Arcana Correspondences
Build on your foundational knowledge of tarot and astrology by exploring the minor arcana using the ancient concept of the Chaldean Order. Learn the pattern that connects both the minor arcana and astrological concepts.
Court Card Correspondences
Each court card is made up of two zodiac signs and three minor arcana cards. See each of the court cards in a new light based on the information that you've already learned in previous sections.
See Your Natal Chart in Tarot
Learn how to use tarot for astrological readings. Put your knowledge of the entire tarot deck and astrology together to interpret your own natal chart. Use a combination of astrology and tarot to dive deeper into yourself.
Interpret Planetary Positions
Want additional context for your tarot readings? Planetary positions give the overall environment that your questions to the tarot live in. Learn to translate planetary positions into the tarot, and read them with tarot cards.
Reference Sheets
Comprehensive astrology and tarot reference sheets with key concepts, definitions, correspondences, meanings, keywords and more. Our reference sheets should give you a foundational knowledge of astrology.
Tarot and Astrology - Two Tools for Self Exploration
This is a digital version of our printed Tarot and Astrology Workbook. Click here for the printed copy.
Both tarot and astrology come from a similar root; they are both methods of giving our inner worlds an outer form so we can more easily explore and articulate complex inner processes and emotions. Using myths, stories and archetypal imagery, both tarot and astrology provide frameworks for a better understanding of the self. It is no surprise then, that there are so many correspondences between these two systems.
Just as with tarot, we do not consider astrology as a method for fortune-telling, but as symbolic representations of unconscious, cyclical energy present during a particular time and place, describing a kind of emotional weather or climate. The images, such as the animals and creatures of the zodiac, are just memorable short-hands for more complex ideas. If you're already somewhat familiar with either of these systems, this workbook can be the starting point for you to explore the other and relate the two of them in your own terms.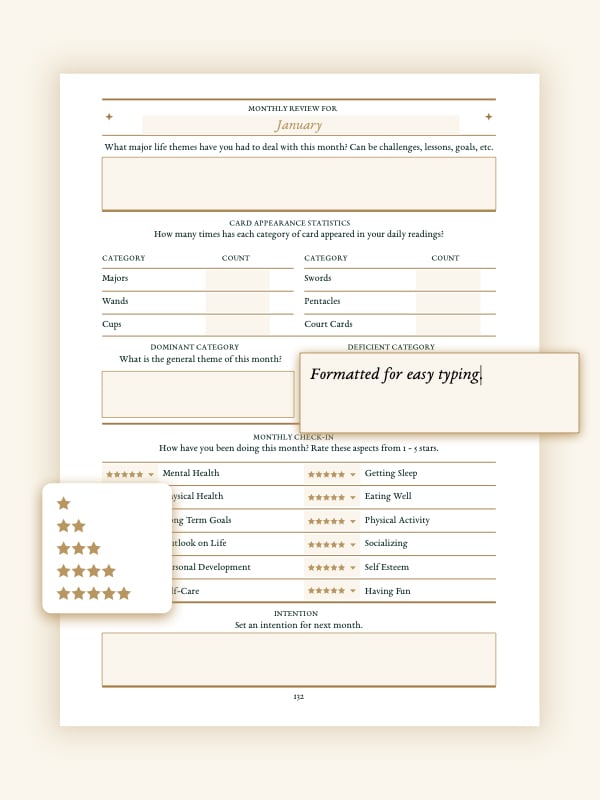 What Happens After Checkout?
Get Order Confirmation
Your payment will be processed, and you'll get an order confirmation email. It'll contain all the details of your purchase. If you paid with PayPal, all further emails go to your PayPal email.
Get Email With Link
You'll get a seperate email for your download link and instructions. If you don't see it, please check your spam folder. If you bought a physical item, you'll get a tracking number when they ship.
Download Your File
Make sure to download your file as soon as you get it and save it to a safe location. To prevent abuse, downloads expire within 45 days of purchase. Enjoy your journal!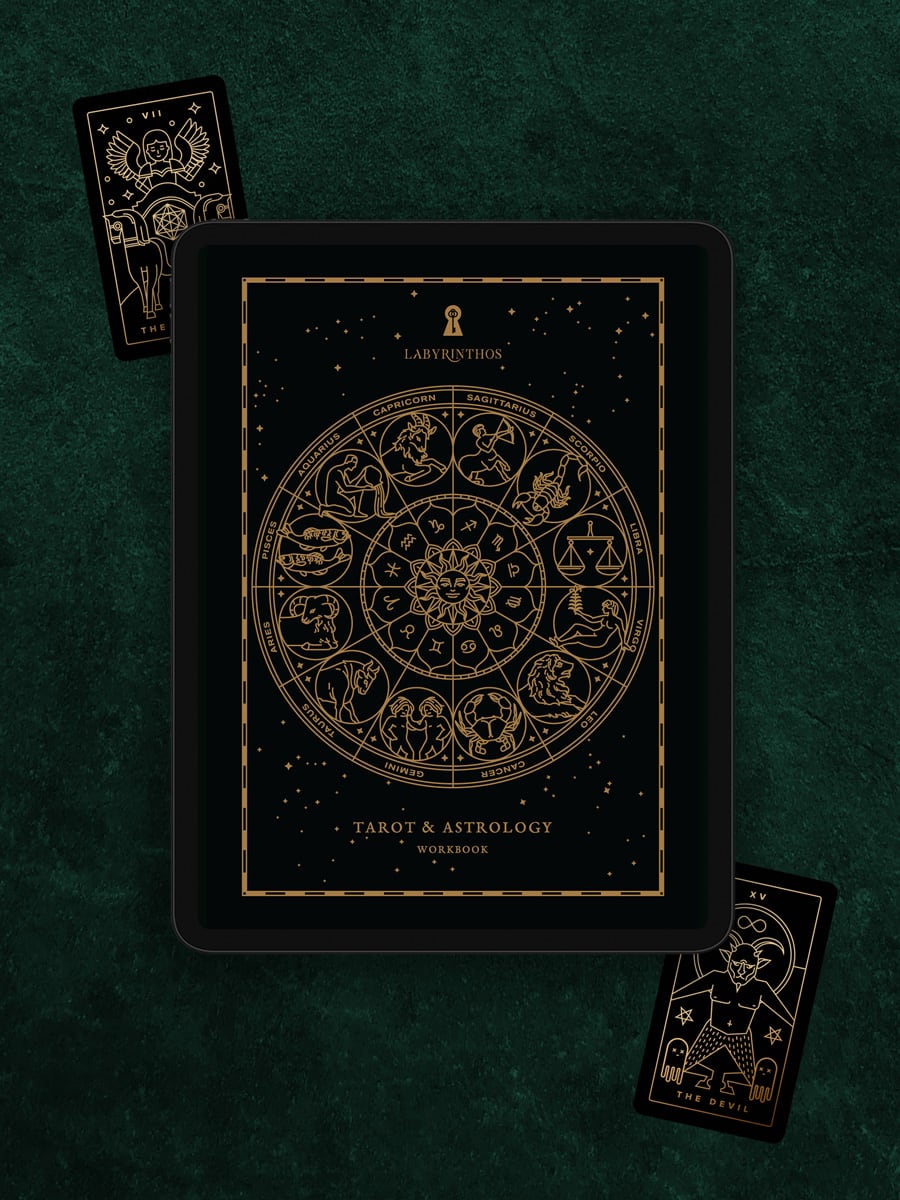 This Digital Tarot & Astrology Workbook is for:
Readers that are already comfortable reading the tarot from an intuitive, narrative perspective, but are curious about tarot's esoteric origins and connections.
People with a background in both tarot and astrology, but without knowledge of how they are connected.
Readers with a strong background in tarot, but only know the basics of astrology.
Anyone curious about how to combine both tarot and astrology to use as methods of self-introspection and understanding.
Anyone curious about exploring your natal chart using imagery from the tarot.
After Completing this Tarot & Astrology Workbook, You'll:
Be able to do a tarot-based natal chart reading.
Develop a strong understanding of your own personal tarot-based natal chart, providing you with further insight to yourself.
Be able to use tarot to interpret planetary positions.
Understand the astrological correspondences for each and every one of the 78 tarot cards in your deck.
Be able to weave together two important esoteric systems that can infuse your tarot readings with an additional layer of rich history and background information.
interactive pdf
Free USA shipping over $100
Companion App
Secure Payment
Digital Tarot & Astrology Workbook
The content is great so far. But I am not LoViNG the digital format. Some of the material was clearly formatted to be read across pages, which you lose out on. I live in Australia, so I felt I had to get the digital version for this book. I had already ordered the regular tarot and Lenormand workbooks (physical books) and the shipping was VERY expensive! I almost didn't purchase anything at all, because the shipping really made it too pricey a gift to myself - but I ended up deciding to splurge anyway ( I rationalised I would not remember the money, but I would remember the lessons I learned from the book). As this was my second order from Labyrinthos, I couldn't justify paying the shipping again. I would not do another digital book, but that's a personal preference. Some people may like being able to type out their thoughts.
That said, I can not fault them on the content, and I can see the love that has been put into it - of this there is no doubt. I really look forward to getting the physical books I ordered too. I imagine it will be a completely different experience for me.
Astrology Workbook Review
I recently purchased the digital version of the tarot & astrology workbook. The layout is phenomenal, I love the detail put in the layout of the pages and the thought-provoking questions in the book itself. However, due to this being digital, some of the interactive boxes to put text in don't work very conveniently (for example, in a reference page where I put my planetary aspects, there's only lettered drop-down menus where one would write the aspects so I couldn't write things like conjunction, sextile, etc.) Otherwise, this is a great workbook. I would recommend it to anybody interested in learning astrology in a more in-depth manner.
Digital Tarot Astrology Workbook
Exactly what I was looking for, easy to use and really helped me to structure and consolidate what I know about both tools.
Pertinent Purchase
A few years back, I wrote a cheat sheet for myself, linking individual Tarot cards, court cards and Minors with astrological planets and Zodiac signs. This book turns out to be a thousand times more comprehensive and gorgeously laid out.
Don't get me wrong - I still have my old cheat sheet - but I love this, because it links together the Tarot and astrology in ways I hadn't even imagined before.
Thank you.
---
Related Items
Other things you may be interested in
---
Go to Top
This website uses cookies to track our traffic and marketing efforts so that we may better serve you.
Learn more