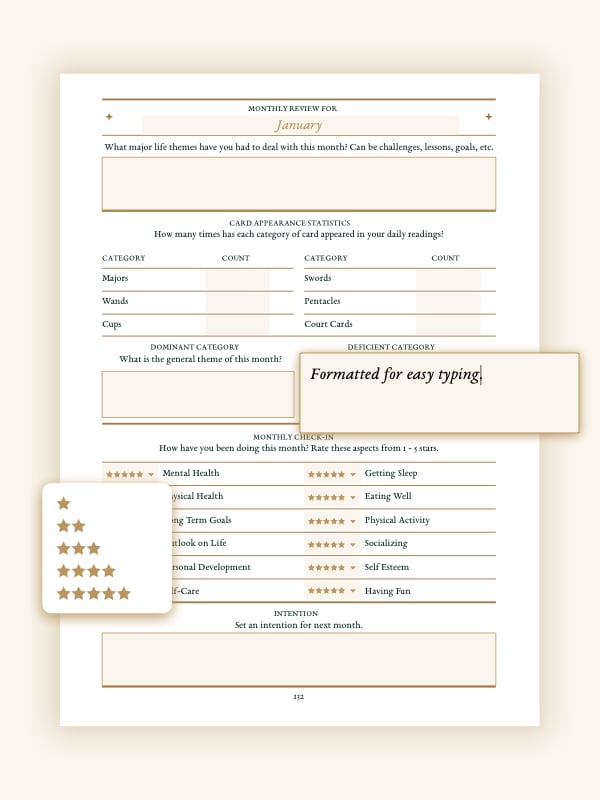 What's Inside
Digital Tarot & Lenormand Workbook Set
Digital Tarot Workbook and Journal


Our digital tarot workbook guides you through your own unique understanding of the tarot. Learn about the 78 cards and elements. Comes as a fillable, interactive PDF so you can enter all your answers on your computer or tablet.

See Full Product ⟶

Digital Lenormand Workbook and Journal


Our digital lenormand workbook guides you through reading Lenormand. Learn about each of the 36 classic cards, and practice creating pairs. Comes as a fillable, interactive PDF so you can enter all your answers on your computer or tablet.

See Full Product ⟶

Digital Tarot & Astrology Workbook


Our digital tarot and astrology workbook helps you understand the relationships between two popular esoteric systems; tarot and astrology. Learn correspondences between your tarot deck, the zodiac, planets and more. Read your natal chart with tarot.

See Full Product ⟶
---
interactive pdf
Free USA shipping over $100
Companion App
Secure Payment
So much information! So good!
The app changed my life… then I found the books! I can't even tell you enough how badly you need this in your life and may not even know!
Amazing!!
I love everything from you. Every single detail on my workbooks is amazing!! Thank you so much!!
Helped me deepen my understanding
Doing these workbooks has helped me get a deeper, better understanding of the cards and myself. The prompts really helped me to start reading the cards with my own intuition instead of just relying on a book to tell me what they mean. I feel that my readings are getting so much better now. I'm really glad I got the workbooks to go along with the decks.
Digital Tarot Workbook
I am enjoying this workbook! The information included and the exercises and prompts are taking me on my Fool's Journey in an unexpected way! Would recommend
Digital set -forever recommend
I teach tarot and have been reading it for about 15 years. I also love the little app by this company but I will forever be recommending these books as well
---
Related Items
Other things you may be interested in
---
Go to Top
This website uses cookies to track our traffic and marketing efforts so that we may better serve you.
Learn more