---
Lenormand Workbook Contents
36 Card Worksheets
Explore each of the 36 cards of the Lenormand with personal prompts that help you develop a better connection with the cards. Practice breaking down each card into adjectives and nouns to create a strong base for reading Lenormand pairs.
Lenormand Pair Worksheets
Practice the foundation of Lenormand readings by creating your own database of paired meanings. Building on your work with individual cards, we show you how to read the cards syntactically.
Master Line Spreads
After mastering pairs, graduate to reading line spreads. Line spreads are perfect for giving you short answers to questions, while you can adjust the level of detail you'd like by choosing shorter or longer spreads.
Complex Lenormand Spreads
Learn how to read 2 dimensional Lenormand spreads like the box spread, and the Grand Tableau. Worksheets build upon previous exercises with line spreads, as you get more comfortable learning to read more elaborate stories with the cards.
Lenormand Journal
Give some structure to your Lenormand journey with daily, weekly and monthly readings. Each page of the journal helps you keep a record of the happenings in your life, as well as help develop a routine to practice your readings.
Reference Sheets
Includes Lenormand keywords for each of the cards, as well as playing card correspondences.
Learn Lenormand While Creating a Digital Grimoire
This is a digital version of our printed Lenormand Workbook and Journal. Click here for the printed copy.
While the Tarot provides us with a psychological reading of your inner world, Lenormand grounds us in the practical everyday realities. It is a 36-card reading system that makes use of very direct symbolism read with syntactic, almost grammatical rules that paints a vivid picture of everyday experience.
Together, these vastly different but complementary reading systems can come together to unite your inner world with outer awareness. This Lenormand workbook is meant to provide you with simple exercises with a structured approach, building upon increasingly complex readings until you can read the Grand Tableau.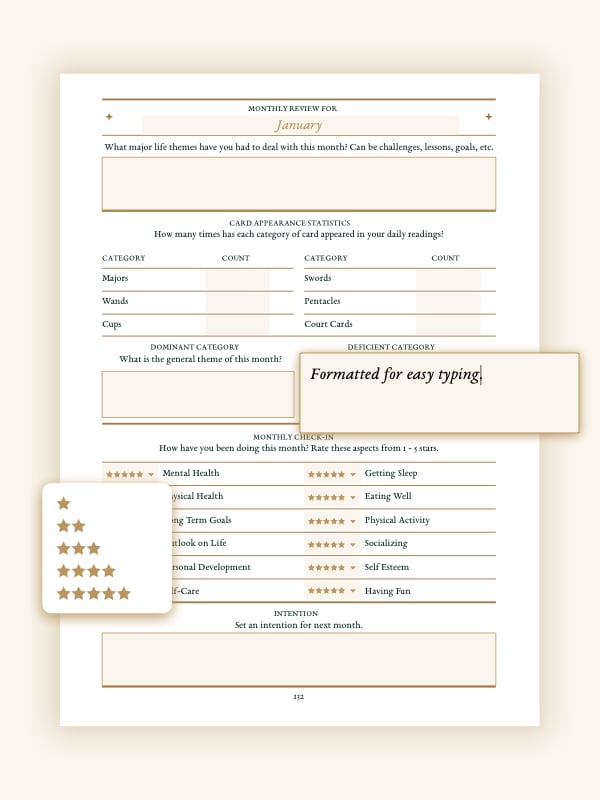 What Happens After Checkout?
Get Order Confirmation
Your payment will be processed, and you'll get an order confirmation email. It'll contain all the details of your purchase. If you paid with PayPal, all further emails go to your PayPal email.
Get Email With Link
You'll get a seperate email for your download link and instructions. If you don't see it, please check your spam folder. If you bought a physical item, you'll get a tracking number when they ship.
Download Your File
Make sure to download your file as soon as you get it and save it to a safe location. To prevent abuse, downloads expire within 45 days of purchase. Enjoy your journal!
This Digital Lenormand Journal is for:
Lenormand beginners who are new to reading lenormand cards.
Experienced tarot readers who are looking to expand their readings with insight into everyday experiences.
Lenormand beginners that find tarot's narrative driven approach to reading complicated and arbitrary and are looking for a more rules-based approach to reading cards.
People looking for simple, straightforward imagery without convoluted symbolism.
After Completing this Digital Lenormand Journal, You'll:
Have a completed digital grimoire of lenormand meanings, each with your own personal touch.
Have the ability to read the lenormand pairs, 3, 5, 7, 9-card and grand tableau spreads with clarity and confidence.
Understand the principles of how to read lenormand syntactically.
Have a 4-month record of your journey into lenormand, cataloging how your readings tie to your experiences.
Have a strong a foundation for continuing your daily lenormand practice.
interactive pdf
Free USA shipping over $100
Companion App
Secure Payment
Digital Lenormand Workbook and Journal
Digital Workbooks
I absolutely love what you done beautiful soul; I am not a techy person by any means. These workbooks have become an amazing tool to help me on my journey. I can honestly say that you have taken me to a new level. Thank you, looking forward to great things from you mama. Great Job🌹🌹🌹
Well Guided and In Depth
I'm obsessed with the Lenormand deck ever since I have started with it because of how well it leads the subject through their reading. My friends are always surprised when I read them their results and how accurately the cards are able to speak to their conflict. I was struggling a little with some of the Grand Tableau and 9 card readings. This guide coupled with the free resources around reading cards as a string has really helped me break through on my readings!
I want to grow my practice and be faster at reading tarot. Because this is digital, I have a lot of great guides to help me get faster, more accurate readings. I'm hoping one day to do some readings for local crystal shops, etc. for fun and this is a great start. Thank you for this!!
Very good diary
Very nice Lenormand Diary, You can have all the information you need all together and make your onwn book. I miss some more places to write things that for me are interesting, but you have plenty of space on the margins ( I have buy the digital edition and I have pinted it)
Love, love, love the digital Lenormand Workbook/Journal
I have procrastinated with my Lenormand practice, taking classes and then forgetting the information, reading here and there but not consistently. When I saw the digital workbook I knew it was the perfect solution. I am much more dedicated and efficient since I can type my answers. The questions really require me to ponder the cards and all their potential meanings and nuances. I am taking my time and not rushing my answers since I believe doing that will help me internalize the meanings and make my reads more organic and significant. Just speaking rote definitions never creates a flowing and significant read. Thanks for the option of printing my pages/answers, should I decide to do that. Great job creating such a fabulous tool….beautiful and effective! I loved the hardback workbook too but I will be much more inclined to type my answers and ultimately complete the book.
---
Related Items
Other things you may be interested in
---
Go to Top
This website uses cookies to track our traffic and marketing efforts so that we may better serve you.
Learn more