A Rainbow Tarot Deck for Reading the Language of Color
The Arcana Iris Sacra, translated roughly from Latin as the "Mysteries of the Sacred Rainbow" is a vintage-inspired tarot deck, drawing upon the dense and complex traditions of the Golden Dawn, the Kabbalah and astrology.

Use the colors and their intensities to create additional layers of meaning:

∙ Red - Fire: Willpower and creativity
∙ Blue - Water: Emotions and habits
∙ Yellow - Wind: Intellect and ideas
∙ Green - Earth: Material world and sense of stability

Each card also contains a rainbow - the four colors described above - either swirling, twisting, moving or beaming - to help you understand the focus of each card and where the primal energy of that card lies.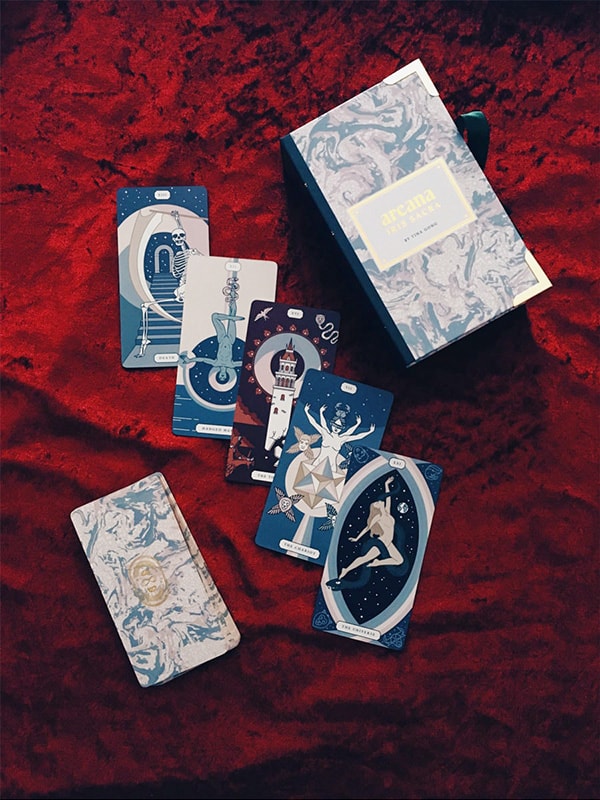 14-day returns
Free USA shipping over $100
Companion App
Secure Payment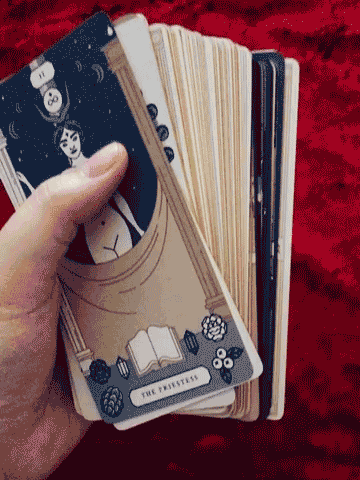 The Arcana Iris Sacra Tarot and Labyrinthos Tarot App
The Arcana Iris Sacra Tarot Deck is compatible with the Labyrinthos Tarot App. The app completely free, without ads and is only supported by purchases of the tarot decks you see on this site.

The Labyrinthos tarot app focuses on the philosophy of teaching tarot as a tool for introspection, tieing together an ancient tradition with a modern approach to wholistic wellness.

The app comes with the following features:
☽ Custom tarot spreads based on moon phases
☽ Digital readings
☽ Guided physical readings with deck of your choice
☽ Database of tarot card meanings
☽ Tarot journal to save important readings
☽ Tarot lessons with foundational philosophy
☽ Your Mirror: we analyze the data and give you patterns on yourself and your readings.


Like the cards except no reversal readings
Beautiful cards!
The cards are beautiful and full of meaning! I appreciate the detail. I would buy three again as a gift!
Great Gift!
This set was a gift for a friend. They couldn't have been happier!
Absolutely astounding
This deck is absolutely gorgeous. It is easy to use and more insightful than Rider-Waite-Smith. (Yes, I am aware some images in the RWS go back 600 years and may be medieval.). .... This is just better. I would pay for an electronic app version!
Hey! Just so you know, our app is completely free -- no ads, nothing. Your deck purchase helps finance it, actually! You can change your decks in the reading settings (it defaults to golden thread). Here's where you can download it: https://app.labyrinthos.co
First time tarot purchaser/user
I was recommended to your company through a social network community for people practicing the craft. I couldn't be happier that I chose your Iris Sacra deck. I am very new in the world of witchcraft and using tarot cards so I'm still in the early stages of learning. This particular deck spoke to me, mainly because of the artwork. I just connected with it. Another reason I chose you was because you are the designer and owner of all your products. I much prefer using a small/private business over big business. Thank you so much for the information provided in your website as it specifically correlates with the deck purchased. This is also a feature I loved. I'm very excited to keep learning about tarot and wanted you to know that your website is what kicked it off for me. 🙏🏼🙏🏼. I will be looking into your workbooks and other accessories as well. Blessings to you and your business.
---
Related Items
Other things you may be interested in
---
Go to Top
This website uses cookies to track our traffic and marketing efforts so that we may better serve you.
Learn more