The Luminous Spirit Tarot: Inspired by Light and Color
I created this deck as a sister deck to the Golden Thread Tarot - both visually and conceptually. While the Golden Thread is really focused on looking within, the Luminous Spirit is really about radiating outwards.

I was inspired by the way that we interact with light - how when light travels through a prism, we see all of the colors that are within. The archetypes within the tarot are all within us, and our decks are the prism that lets all aspects of ourselves speak.
Alongside this, this deck was also inspired by the phases of the moon, giving the deck its ethereal appearance. Life comes in cycles, and each phase is a lesson to learn in balance, introspection, and action.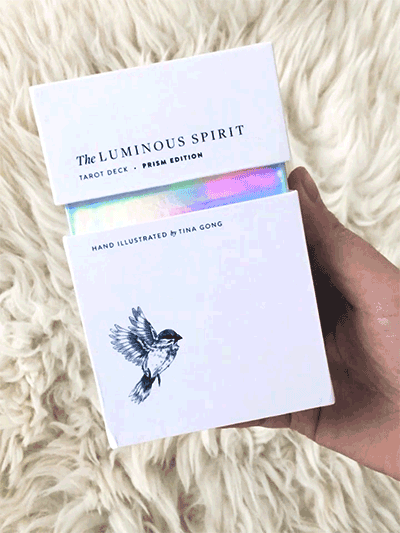 14-day returns
Free USA shipping over $100
Companion App
Secure Payment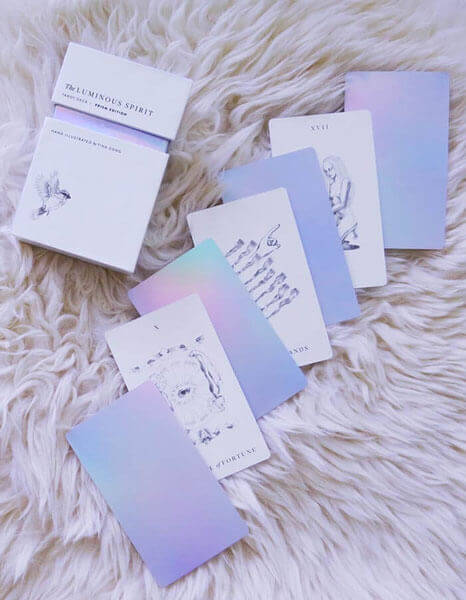 Moon Magic and the Labyrinthos Tarot App
The Luminous Spirit Tarot Deck works alongside the Labyrinthos Tarot App. It's completely free, without ads and is only supported by purchases of the tarot decks you see on this site.

The Labyrinthos tarot app focuses on the philosophy of teaching tarot as a tool for introspection, tieing together an ancient tradition with a modern approach to wholistic wellness.

The app comes with the following features:
☽ Custom tarot spreads based on moon phases
☽ Digital readings
☽ Guided physical readings with deck of your choice
☽ Database of tarot card meanings
☽ Tarot journal to save important readings
☽ Tarot lessons with foundational philosophy
☽ Your Mirror: we analyze the data and give you patterns on yourself and your readings.
Amazing
The most beautiful deck! Came in as quickly as an amazon delivery (5 ish days?). It felt familiar like an old friend. Thanks Tina!
The luminous spirit deck
What a wonderful deck. She has a very quirky sense of humor and is very very accurate. I am super pleased with the energy of this deck. I believe the angels speak through her.
Thank you.
To teach you Tarot
The deck does connect to our Angel advisors. It's design reminds me of a basic Tarot deck and is great for beginners who don't know the Tarot.
Luminous Tarot Deck
I got these as a gift for my youngest sister. It's her first deck and she loved it. When I asked her about them she had mentioned it inpsires her to deisgn tarot cards. She is am amazing artisit and we both thank you for the inspiration. Hoping only for the best, to you and your next creations... t-t-f-n! (Ta-Ta-For-Now!) =P
XOXO
Haley & Jade
Beautiful and just what I was looking for!
From the moment I opened this deck I was in LOVE. The artwork is absolutely perfect for my taste and the backs are literally mesmerizing in sunlight. The energy of the deck overall is so lovely and I felt an immediate connection! It's a very honest, neutral vibe. Feminine but reserved, like a loving mentor who tells you what you need to hear even when it may not be what you *want* to hear. The size is perfect for me, I've had trouble shuffling my other deck in the past because it was just a litlle bit too big, but these are just right and I can comfortably shuffle them just about any way I want! They have a nice bit of flexibility to them as well.
---
Related Items
Other things you may be interested in
---
Go to Top
This website uses cookies to track our traffic and marketing efforts so that we may better serve you.
Learn more