---
With Each Card, You'll Get:
Upright And Reversed Tarot Card Meanings
Unlock the full spectrum of interpretations for each tarot card, whether in its upright or reversed position, empowering you with a comprehensive understanding of their nuanced messages.
Meanings For Everyday Situations
Discover practical and relatable interpretations of tarot cards that directly apply to everyday situations, offering guidance and insight for navigating life's challenges and decisions.
Journal Prompts
Explore thought-provoking journal prompts that accompany each tarot card, encouraging self-reflection, personal growth, and a deeper connection with the cards' symbolism and messages.
General and Topical Keywords
Gain access to a comprehensive collection of general and topical keywords associated with each tarot card, enabling you to quickly grasp their core themes and facilitate more intuitive readings.
Short Summaries and Major Lessons
Experience concise yet profound summaries and major lessons for each tarot card, condensing their rich symbolism and wisdom into easily digestible insights that enhance your understanding and interpretation.
Reference Sheets
Quickly locate the information you need without thumbing through the entire book. Get keywords (both upright, reversed and topical), astrological correspondences, numerology, elements, meditations and summaries.
Our Tarot Card Meaning Book Provides Practical Interpretations for Real-life Questions.
Understanding general tarot card meanings establishes a great foundation, but truly interpreting how each card relates to your unique situation can be challenging. The Labyrinthos Book of Tarot Meanings provides in-depth and tailored guidance that resonates with your love life, career, health, finances and more.
If you're frustrated and confused every time you seek the meaning of a tarot card, this book is for you. This reference will provide you clarity and confidence in your tarot readings by giving you possible direct applications to your specific circumstances. No longer will you feel uncertain or hesitant when seeking guidance from the tarot—instead, you'll be empowered to take meaningful action in your life.
Topical Meanings for specific categories, like love, relationships, career, finances, health, and spirituality.
Intuitive Prompts to help you connect with the cards on a personal level like keywords and introspective questions.
Comprehensive Insights of the cards with detailed meanings in both upright and reversed positions.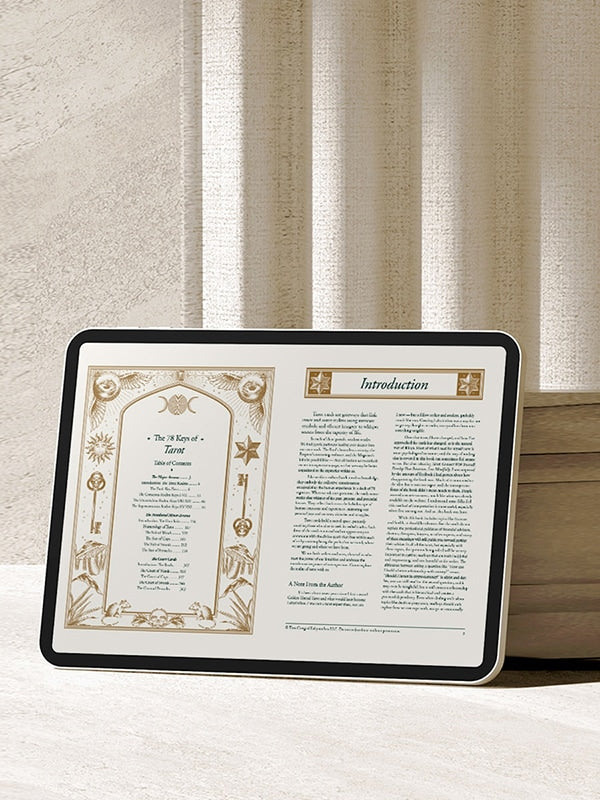 What Happens After Checkout?
Get Order Confirmation
Your payment will be processed, and you'll get an order confirmation email. It'll contain all the details of your purchase. If you paid with PayPal, all further emails go to your PayPal email.
Get Email With Link
You'll get a seperate email for your download link and instructions. If you don't see it, please check your spam folder. If you bought a physical item, you'll get a tracking number when they ship.
Download Your File
Make sure to download your file as soon as you get it and save it to a safe location. To prevent abuse, downloads expire within 45 days of purchase. Enjoy your journal!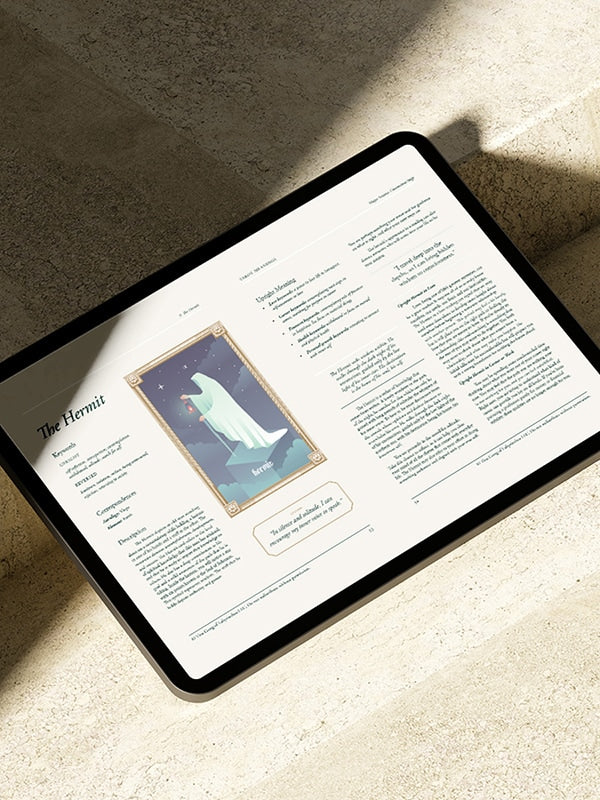 A Tarot Card Meaning Book to Help You Get Answers For Your Exact Situation.
Within each tarot card is a truth to be discovered, illuminating the hidden depths of our subconscious and guiding us toward self-knowledge. But often their messages are veiled and hidden in a mysterious language that makes it challenging to apply to the complex situations of everyday life.
With our Book of Tarot Meanings, you'll be able to:
Get clear answers every time you pick up the cards, avoiding ambiguity and uncertainty in your readings.
Go beyond generic interpretations and receive answers that directly apply to your unique situation, allowing for a more personalized and insightful reading experience.
Embrace fresh and relevant meanings and solutions that speak directly to the challenges and complexities of modern life, enabling you to navigate your path with confidence and wisdom.
interactive pdf
Free USA shipping over $100
Companion App
Secure Payment
Amazing!
The cross referencing is profound and recommended for any serious practitioner
In a league all her own
There are few authors who have presented such great interpretations of Tarot . Actually none that have presented this material in this way. Tina is a gift to us all and I wish her all success and continued exploration. If there was one book I had to pick for the rest of my life to consult on Tarot, this would be it. Heck, it is it!
The book of tarot
I downloaded the pdf of the book of tarot meanings after using Labyrinthos's app for analyzing my readings. It is very complete, insightful and is worth it. The app is nice but the book really helps getting a serious sense of the meaning of the cards and it is very easy to navigate with the search tool.
I highly recommend it.
A Comprehensive Masterpiece
I will always love how in depth and reflective the tarot meanings on the Labyrinthos website are and now it's even better I can access them from an ebook! The art is beautiful and the book is very informative! I would suggest adding the recommended actions for each card from her previous book to this book or the next. Thank you Tina!
Immediately Useful
This book immediately became useful. It complements other Labyrinthos titles and the Labyrinthos app, and it became a useful resource as soon as I downloaded and read it.
---
Related Items
Other things you may be interested in
---
Go to Top
This website uses cookies to track our traffic and marketing efforts so that we may better serve you.
Learn more