---
Tarot Workbook Contents
78 Card Worksheets
Every tarot card has a lesson; get a brief introduction, plus tailored questions and prompts that invite you to consider how they appear your life. Develop a stronger connection to the cards, and explore your own psyche.
Upright and Reversed Cards
After you explore the core archetype of each card, we can derive their light, shadow and balanced sides, to help you understand and derive the card's reversed meanings.
Tarot Structure & Principles
Understand the theory behind each section of the tarot. You'll explore the Fool's Journey in the Major Arcana, each of the elemental affinities, and meet the court cards as though they are real people.
Tarot Journal
Brief daily readings help build confidence with the cards. We include 6 months of daily reading notes, each with their own monthly review spread, which we guide you through.
Tarot Spreads Compendium
Get several of our favorite tarot spreads, and room to record your own. There is also space to record meaningful readings with worksheets to help you break down additional layers of meaning in these readings.
Reference Sheets
Includes tarot keywords and reversals, your personal legend, and a brief minor arcana astrology correspondence sheet.
Learn Tarot While Creating a Digital Grimoire
This is a digital version of our printed Tarot Workbook and Journal. Click here for the printed copy.
Tarot provides us with a model that represents nature's fundamental laws. With plenty of practice, we can make use of it to better understand ourselves and others. This digital version of our tarot workbook and journal combination will help you explore your decks as well as yourself.
We provide you simple keywords and prompts, with just enough detail so you can fill in the gaps with own personal interpretation of each tarot card. Your personal life experiences will give each of the 78 tarot cards your own unique personality, as you simultaneously create a more intimate relationship with them. The tarot journal part of the book will provide you structure so that you can see how short daily readings can help you find insight about your daily life.
When you're finished with this digital tarot workbook, you'll be left with your very own personal tarot grimoire. It will have your own interpretation of the cards, your own compendium of spreads, as well as a memoir of this journey into the cards and yourself.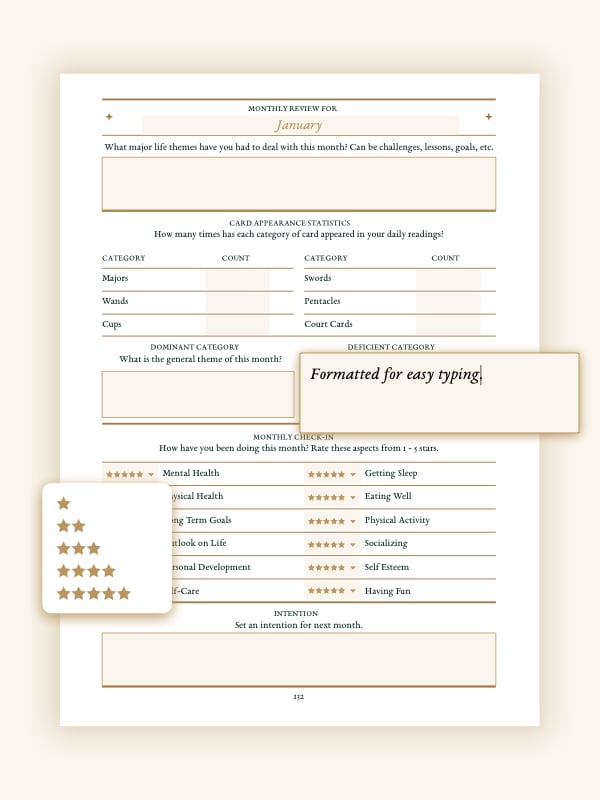 What Happens After Checkout?
Get Order Confirmation
Your payment will be processed, and you'll get an order confirmation email. It'll contain all the details of your purchase. If you paid with PayPal, all further emails go to your PayPal email.
Get Email With Link
You'll get a seperate email for your download link and instructions. If you don't see it, please check your spam folder. If you bought a physical item, you'll get a tracking number when they ship.
Download Your File
Make sure to download your file as soon as you get it and save it to a safe location. To prevent abuse, downloads expire within 45 days of purchase. Enjoy your journal!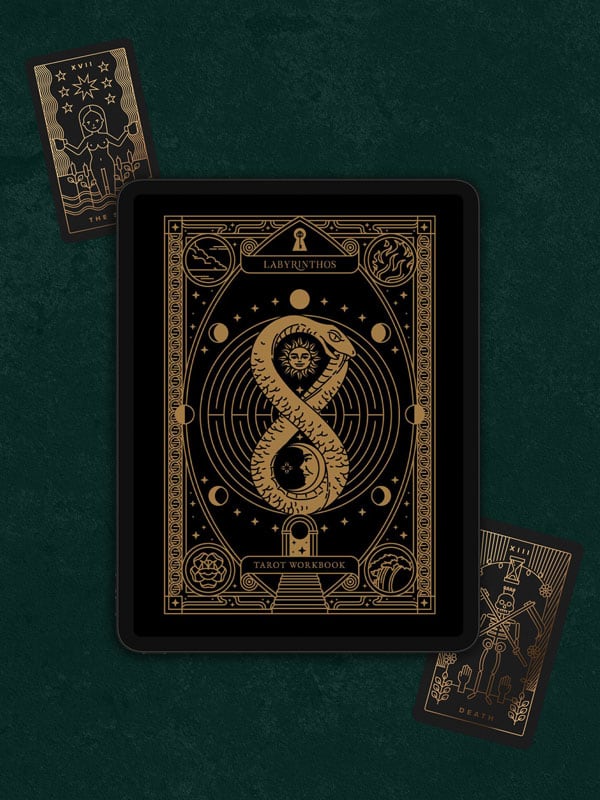 This Digital Tarot Journal is for:
Tarot beginners who want to learn how to intuitively read tarot.
Tarot beginners who are want simple instructions, patterns, limited memorization of each tarot card and a more personal connection to the tarot.
Accomplished tarot readers who want to renew their personal relationship to their tarot cards.
Anyone who would like to use the tarot as a means of developing better self-awareness.
After Completing this Digital Tarot Journal, You'll:
Have a comprehensive digital grimoire of tarot meanings, infused with your own personality and experiences.
Have a strong comprehension of each tarot deck's foundational concepts.
Have a collection of your most beloved tarot spreads that you can access and consult at any time.
Have a 6-month memoir of your journey with tarot, documenting your tarot readings and how they relate to your daily life.
Have a powerful foundation for the continuation of your daily tarot practice.
interactive pdf
Free USA shipping over $100
Companion App
Secure Payment
Great tarot workbook
I bought the digital version of their tarot workbook and loved it; it's well-designed, convenient, and honestly so lovely to look at. You're encouraged to think through what every card of your deck means to you, and you get extensive practice and build up experience with your deck this way. Honestly, the physical book would probably be even better, just as something for you to fill up and treasure :)
Exceptional Quality Digital Book
I found this book to be useful from the moment I downloaded it. The quality is superb. Excellent value for money. Thank you.
Awesome!
I'm finding this workbook incredibly educational. Thank you. I'm very pleased with my purchase.
Deep
I love this tarot journal/planner. It's unlike MANY others I have used (and ultimately wasted my money on). This journal is very user friendly and one of my favorite features is the room for personalizing your interpretation of each card, including drawing your own shorthand for them, instead of just being given a full meanings list of each card. There are a few examples/keywords associated with each card to get you started, but it's up to you from there. I also like that you're only prompted to pull one card per day and given space only for some brief thoughts (you can journal more on that separately, of course). But this feature really helps you stop complicating your days with a full, drawn out spread every single day. I had that issue a lot, especially when starting out practicing tarot. I thought I was going to magically (1) learn every single card inside and out and (2) get some "ah-a" moment or epiphany from doing elaborate daily spreads. I've learned better since, and this journal/planner has been very helpful in promoting the idea to myself that I just need to "slow down," essentially, and to stop trying to look for so many answers where they may not be. It actually became MORE difficult for me to interpret readings for myself because I was overwhelming myself with confirmation bias. This journal also lets you explore your own first impressions of each card, regardless of knowing the meaning yet or not. It's not only a great tool for tracking and journaling, but also for being your own teacher. I know it's been a great medium for me to do that for myself. Highly recommend!
Educational and easy to understand
I'm just starting out with tarot and the workbook. It makes a beginner like me feel at ease. The concepts are easy to understand and the design is cool. Looking forward to my journey.
---
Related Items
Other things you may be interested in
---
Go to Top
This website uses cookies to track our traffic and marketing efforts so that we may better serve you.
Learn more